Central Pacific & Manuel Antonio Travel Guide
The central Pacific coast of Costa Rica is the most easy accessible coastal region from San Jose and the Central Valley. In fact, it covers an expansive area from the Pacific port city of Puntarenas to just north of Dominical. The roads leading from both the Central Valley and highlands are paved and well-developed, making the Central Pacific even more appealing to both local Costa Ricans and international travelers. If you only have a day or two to explore the coast, this region is definitely a good option! Don't miss a thing with our central pacific & Manuel Antonio travel guide.
Next to Nature
This region boasts pristine beaches, gorgeous multi-colored sunsets, wet and dry tropical forests and a wealth of wildlife. Due to the diversity of flora and fauna in this region, it is sometimes thought of as a miniature representation of the entire country. This region is home to the vibrant and playful scarlet macaw, many species of monkeys and fascinating marine life such as migrating pods of both dolphins and whales.
Similar to other regions of the country, the Central Pacific provides travelers with numerous adventure-filled activities. There is no shortage of surfing, boating, and fishing in this area. This region is well-known for its sport-fishing. Additionally, this is a perfect area for a hike through a national park, mangrove boat or kayak tour or a sailboat/catamaran tour.
Manuel Antonio/Quepos
Both the beaches and the national park are famous for their natural beauty and biodiversity. There are several large, sparkling white sand beaches in the area which are ideal for sunbathing, strolling, kayaking, swimming and taking photographs. Be sure to wear your sunscreen as the beaches can be highly reflective here and the sun is quite intense. You will find many people swimming, surfing, kayaking and fishing on the beaches here. Always be careful with your food and belongings! The local monkeys and raccoons like to snatch things from visitors. Quepos is the neighboring town of Manuel Antonio and is known for its first-rate sport fishing.
Sailing Tour
We offer an amazing sailing tour that will take you on a majestic tour of the area by way of sea. If conditions are good for snorkeling, you will also have the opportunity to see a colorful variety of exotic marine animals. If you are really lucky, you may even see dolphins or whales while on this tour! Another engaging tour is the mangrove boat or kayak tour that will take you exploring the wildlife of the Damas Estuary. This estuary provides a leisurely and scenic way to see a variety of animals, such as caimans, sloths, crocodiles, boas, white face monkeys, egrets and more.
Dining
Manuel Antonio is not home to only natural beauty, but many delicious restaurants and beautiful lodging options. Many of the restaurants feature fresh local seafood and typical fare. A favorite for visitors is the Agua Azul restaurant, which offers a wide variety of fresh and mouth-watering seafood, as well as a spectacular view. Another restaurant, El Avion or "The Airplane", is a former United States military cargo plane with an interesting Cold War background. It has been converted into an incredible bar/restaurant in Manuel Antonio.
Hotels
Many of the hotels in this area are located in the hills of Manuel Antonio and not directly on the beach. Instead of walking, we recommend that you take a taxi or local bus into town. The views afforded by the hotels in the hills quickly make up for the need for transportation. You won't find a better spot to enjoy the sunset than through your own window.
GLBTQ Friendly
Manuel Antonio is often known as one of the gay destinations of Costa Rica. Should you prefer to travel to areas and stay in hotels that are LGBTQ friendly, Manuel Antonio is a good option and we are happy to assist you.
 
Manuel Antonio National Park
What makes Manuel Antonio
famous around the world is not only its pristine beaches, but it's gorgeous national park. Even though the park is the smallest of all of Costa Rica's national parks, it is one of the most visited. In fact, Forbes rated the park as one of the 12 most beautiful national parks in the world.
Unparalleled Diversity
This park boasts a diversity of animals and plant life that makes a trip to Manuel Antonio unforgettable. Here you can see several species of monkeys, such as the mantled howler monkey, Central American squirrel monkey and white-headed capuchin monkey. This park is also home to sloths, coati, iguanas, bats, snakes and a plethora of birds. The beaches within Manuel Antonio are incredible and an excellent way to cool off after a hike through the hot national park. We offer a guided tour of the national park which is the best way to visit the park. The guides are very knowledgeable and know how to find various types of plant and animal life within the park.
Tarcoles and Crocodiles
If you have ever seen a picture of a group of crocodiles sunbathing along a muddy riverbank in Costa Rica, you were likely looking at a photo of the Tarcoles River. If you are staying in Arenal/La Fortuna or Monteverde and want to head to Manuel Antonio, our crocodile boat tour to Manuel Antonio is both a unique mode of transportation, as well as a beautiful way to enjoy wildlife, particularly crocodiles.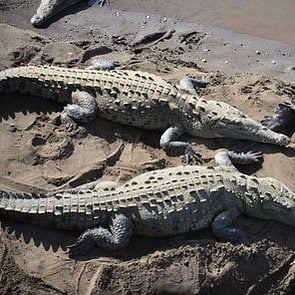 This tour will take you along the diverse Tarcoles River, which is home to one of the world's largest populations of crocodiles, as well as the home of many anteaters, bats, White Faced Capuchin and Howler monkeys, birds, and even the famous "Jesus Christ" Lizard that walks on water.
Jaco
The closest beach to San Jose, Jaco is also home to some fiery and unparalleled sunsets. This is a nice place to quickly stop for a day if heading to or from San Jose and the Central Valley. If you love scarlet macaws, Jaco is the place to visit! Here you can see large flocks of the stunning scarlet macaws hanging out in the trees or flying through the Jaco skies. This area is also close to Carara National Park, which is often thought of as a scarlet macaw sanctuary. Close to Jaco is Hermosa Beach, which is a gorgeous beach and certainly worth the visit. Another aspect that people love about Jaco is its nightlife. Here you will see a great variety of bars, restaurants, and dance clubs playing every genre of music that you can imagine.