Costa Rica Travel Guide
Meet the "happiest people in the world" whilst exploring the beauty of this small country that packs a big heart. Costa Rica offers a rich diversity, not only in nature and wildlife, but also as a culture. Pura Vida; not only a phrase, but this proud nation's way of living.
Why Visit Costa Rica?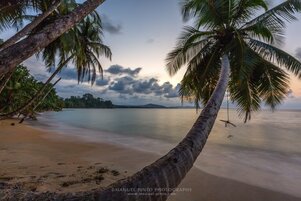 Vacation… Upon hearing this word, the mind evokes images of white sandy beaches, turquoise waters, palm trees, hammocks and perhaps a refreshing fruity cocktail. For others, the word vacation awakens their adventurous side and the desire try something new. Whether you call it vacation, holiday, or something else, we all need a little time away from the daily grind of work, school, meetings, and the hustle and bustle of everyday life. A little escape does the body, mind, and soul a world of good. But where can you go unwind? Where can you travel to both relax and experience new adventures?
Popular Destinations in Costa Rica
One country, two different worlds. Costa Rica's Pacific and Caribbean coasts not only have different seasons, but also offer different, even contrasting vibes. Discover each unique and exotic destination while admiring the awe-inspiring natural beauty of this small nation and being captivated by its charming culture. Explore the cloud forest in Monteverde, discover the raw beauty of Tortuguero and the ever-vibrant Caribbean Coast, surf the gnarly waves of the Pacific Ocean, or observe the electrifying volcano in Arenal – these are just a few of the best places to go in Costa Rica, as the country offers unending possibilities. Certainly, you'll want to see everything that this natural jewel has to offer. However, it can be challenging to know what activities are possible within the timeframe of your visit. Browse our recommended trips further down this page, or contact us via our Trip Planner page and it will be our pleasure to take care of planning a trip to Costa Rica with all the details for you. The Vacation Planner is an ideal, stress-free way to discover the land of Pura Vida!
General Travel Information for Costa Rica